About TVLC - Texas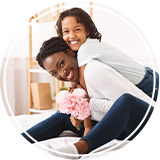 The Village Life Center, Texas, is a full-service mental health agency that offers outpatient and community-based mental health services to children, adolescents, and adults. Our top priority is to provide quality services to those in need. Whether you are:
An individual seeking services
A concerned parent
A hospital staff member
A primary care physician
A foster parent or agency
A school teacher or administrator
Part of the judicial system
We can help those you care about get the mental healthcare they need! Early intervention is vital and it is never too late. Call today and let the healing begin!
We're Here for You
Our client population includes:
Children/youth under 18 years of age
Adults 18 years and older
We provide mental health services to all eligible individuals without regard to race, gender, age, religious preference, ethnicity, sexual orientation, geographic regions, and socioeconomic factors.
Our Mission
At The Village Life Center, we are committed to developing a comprehensive continuum of mental health services to assure every individual receives appropriate services and support when needed. Our services are guided by the following standards:
We practice recovery principles.
We empower our clients and their families to get involved in the treatment plan.
We demonstrate shared responsibility with clients, family, staff, and community.
We recognize and include each individual's unique strengths, needs, and differences in all aspects of his or her treatment plan.
We respect and protect the rights of all individuals.
We encourage the collaboration of all involved parties.
We develop, monitor, and evaluate our services in partnership with our clients and their families.Enter content here.
Our Vision
As a behavioral health agency, The Village Life Center, LLC mental health programs promote and encourage hope, wellness, and recovery to all individuals and families in our community as they embark on their journey to mental wellness.
Our Providers
Our centers are staffed by some of the most caring and committed health experts in Texas. From our front office receptionists to our highly qualified medical staff, you're always in good hands at The Village Life Center.
We boast an extremely dedicated team of mental health professionals, including:
Licensed Professional Counselors (LPC)
Licensed Clinical Social Workers (LCSW)
Licensed Psychological Associates (LPA)
Licensed Marriage and Family Therapists (LMFT)
Psychologists